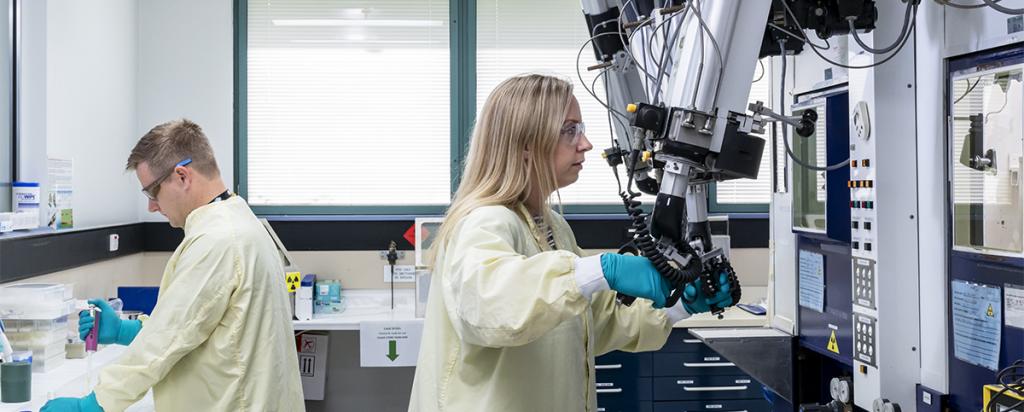 Enabling health research & nuclear medicine
ANSTO is home to the major facilities that enable Australia's advanced manufacturing and distribution of nuclear medicines.
About 75-80 per cent of nuclear medicine isotopes used in Australia come from ANSTO's Lucas Heights campus in Sydney.
INNOVATIONS IN NUCLEAR MEDICINE
Latest developments
New radioisotopes:
Various cancers
ANSTO researchers are working with both Australian and international companies to develop the next generation of nuclear medicines to treat cancers and other serious illnesses. These include research into scandium-47 which can be used for both imaging and therapy and terbium-161 which may be able to treat very small cancer metastases. 
Radioimmunotherapy:
Solid tumours
ANSTO researchers are working with a Sydney-based company GlyTherix on new radioimmunotherapy treatments. Radioimmunotherapy is a combination of immunotherapy, which uses antibodies that specifically target cancer cells, and radioisotopes that can help see and kill cancer cells.
Rhenium SCT (Skin Cancer Therapy):
Non-melanoma skin cancers
ANSTO will be the manufacturing partner in Australia for OncoBeta, a Germany based company. OncoBeta's medical device uses rhenium-188 (a Beta emitting radioisotope) to treat non-melanoma skin cancers. The OncoBeta product will be the first of its kind to be launched in Australia.
Applied Molecular Therapies launches its first theranostic product in prostate cancer treatment
Explore our capabilities
ANSTO manufacture and supply a range of radiopharmaceuticals, radiochemicals, kits and accessories for use in research, industry and the health sector.