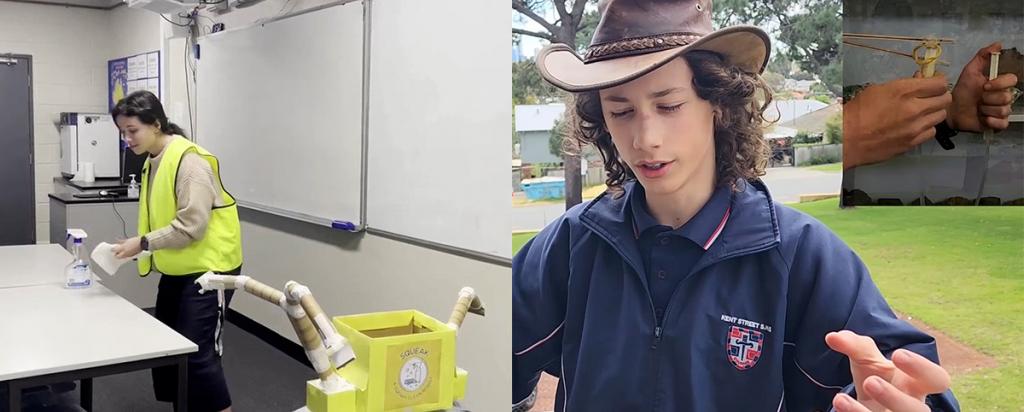 Published on the 25th August 2023 by ANSTO Staff
Students from Heathcote High School in Sydney and Kent Street Senior High School in Perth have landed first place in the annual Australian Nuclear Science and Technology Organisation (ANSTO) National Science Week 2023 Hackathon.
Since 2020, the virtual competition has brought together secondary schools from across the country to participate in a sprint-style event, where students are presented with an abstract challenge and collectively brainstorm creative and diverse ideas to design a real-world product or solution.
This month, 23 teams from across 15 secondary schools took to the task of the National Science Week theme - Innovation: Powering Future Industries – using Artificial Intelligence and ANSTO's own SPOT robotic dog to devise a way to simplify school tasks.
Despite being 4,000 kilometres apart, tackling playground waste was the main drawcard for senior division winners, Heathcote, and junior division winners, Kent Street, with both schools designing a mountable payload for SPOT that could identify and collect rubbish through artificial learning and specially designed robotic arms.
ANSTO's Discovery Centre Team Leader, Rod Dowler commended the winning teams' creativity to come up with innovative and science-based solutions to common, modern-day problems.
"While only in its fourth year, the Hackathon has quickly become one of our most popular events in our education program line-up, connecting students from all corners of the country and engaging the next generation of scientists," Mr Dowler said.
"This year's panel of judges were impressed by the high calibre of entries from students, made even more impressive by their young age and exceptional understanding of complex science and technology.
"The Hackathon aims to elevate science from beyond the pages of school textbooks. It gives students hands-on experience to showcase their science prowess and innovation, and be inspired to turn their creativity into reality.
"In this case, it was investigating a practical way to use man's best friend - or a Boston Dynamics robot dog, SPOT - to make the lives of students, staff, and cleaners easier and improve the school's general wellbeing.
"Both Heathcote and Kent Street have been strong contenders in the Hackathon challenge over the years, so it's inspiring to see them claim victory after a run of landing the runner-up and finalists spots."
During the Hackathon event, school teams interact with scientists, engineers, and entrepreneurs to receive feedback and advice on their ideas and design prototypes. As part of the virtual event, teams then submit a short video showcasing their innovative ideas and designs for judging by a panel of scientists.
In the runner-up place, Perth school St John Bosco College took out the senior division for their concept on using SPOT to sanitise schoolrooms and reduce sick days, and Davidson High School in Sydney claimed the junior division for deploying SPOT to aid students in medical incidents or playground accidents.
For more information about ANSTO's Hackathon and to view the finalists' videos, visit ansto.gov.au/national-science-week-hackathon
Background: ANSTO's National Science Week 2023 Hackathon Winners
Senior Category Winner
Introducing Heathcote High School our winner for the Senior category.
Senior Division (years 9 – 11): Heathcote High School
At Heathcote High School in Sydney's south, students faced with the enduring problem of playground and schoolroom rubbish, designed the concept of a payload for ANSTO's SPOT the robot dog, coined 'Squeak'.
In recognizing that school cleaners are only allocated a few minutes to clean each classroom, and with rubbish left in the playground after every recess and lunch break, Squeak provides the solution to alleviate the workloads of cleaners and keep the schoolgrounds free of waste.
The concept of Squeak works by using in-built cameras and an AI object-recognition system to identify items of rubbish. By using GPS markers placed on wheelie bins around the school so it knows where to go, Squeak can be deployed after recess and lunch to pick up rubbish.
Designed with bespoke robotic arms to enable a wide range of motions, Squeak can place the rubbish in these GPS-enabled wheelie bins, and once full, transport the bins across the school grounds for later collection. 
Junior Category Winner
Introducing Kent Street Senior High School our Junior category winner.
Junior Division (years 7 – 8): Kent Street Senior High School
In Perth's inner-city, Kent Street Senior High School had playground waste front of mind when designing their payload concept for ANSTO's SPOT the robot dog, dubbed the 'ECO-Arm'.
In seeking to help reduce rubbish in the schoolgrounds and assist cleaning staff by cutting down on time spent moving wheelie bins, the school identified constraints with the current robotic arm on SPOT which only has four points of articulation.
The students devised the ECO-Arm as the solution to this, basing the design off the Rubix Snake, composed of modular triangles joined together with a separate hydraulic claw for the claw grip. This enables the ECO-Arm to have a wider range of motions, work in tight spaces, with different shaped containers, open and close bin lids, and reach around corners.
By also applying machine learning with AI, the ECO-Arm can collect images of bottles and cans to test and train the model, and feeding this formatted data into the model will assist with performance monitoring and further retraining.