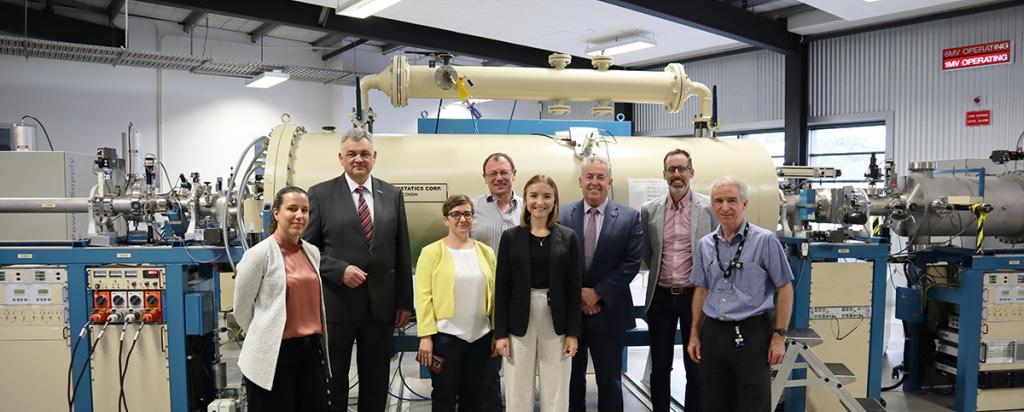 Published on the 15th March 2023 by ANSTO Staff
ANSTO has signed a Memorandum of Understanding with the large German research centre, Helmholz-Zentrum Dresden-Rossendorf (HZDR)  to enhance collaboration between the institutions .
HZDR comprises eight institutes and research infrastructure that includes radiation sources, ion beam accelerators, among other specialist capabilities.  Their research focuses on resources and energy, radiooncology, and the behaviour of materials under extreme fields and in the smallest dimensions.
Scientific Director Prof Sebastian M Schmidt and Head Accelerator Mass Spectrometry and Isotope Research Prof Anton Wallner visited ANSTO and the Centre for Accelerator Science on 14 March to sign the agreement, tour the facilities and meet with technical staff. 
Leader of the Centre for Accelerator Science, Dr Ceri Brenner, whose expertise is in intense laser plasma physics, welcomed the visitors and escorted them on a tour of the accelerator facilities.
"This strategic alliance will drive discovery and innovation in key areas – from advanced materials to health research and even space science – by combining our expertise and accelerator technologies," said Dr Brenner.
ANSTO CEO Shaun Jenkinson and Scientific Director Dr Sebastian Schmidt
CEO Shaun Jenkinson signed the agreement on behalf of ANSTO and welcomed the strategic alliance that includes scientific and technical cooperation in accelerator mass spectrometry (AMS) to benefit society and industry.
Prof Schmidt, in addressing a group of ANSTO's senior research leaders, said in his remarks that such alignments were particularly important in challenging times.
 Prof Schmidt and Prof Wallner also had lunch and a meeting senior ANSTO representatives.
Prof Anton Wallner, who was previously based at ANU, has used the Vega system at ANSTO in collaboration with Dr Michael Hotchkis for several years for collaborative research in dark matter research and nuclear astrophysics.
The ANSTO  instrument has world-leading sensitivity for the isotopic analysis of the actinides.
HZDR is now installing a new AMS system similar to Vega.  They are adding a new technique known as ILIAMS (Ion-Laser-Interaction AMS), which extends the range of radioisotopes that can be detected by AMS. 
ANSTO also has collaborations with Helmholz Zentrum Berlin.
---
Astrophysics research will continue under the new MOU with HZDR
In 2021 Prof Anton Wallner of HZDR/ANU and collaborators published research in Science that showed that the solar system passed through the remnants of supernova explosions in the 'recent' past, approximately 2 and 7 million years ago. This was concluded from the detection of Fe-60  in samples from the seabed floor.
Ultra-sensitive measurements of the same samples, undertaken at ANSTO on the Vega accelerator, detected Pu-244. This suggested that these supernovae also produced a range of heavy elements. However, theories about supernovae indicate they are not powerful enough to produce the range of heavy elements on earth and in the Solar System.
An alternate theory suggested that a neutron star merger may explain the presence of some of the heavy elements.
Prof Wallner is continuing his research with samples of soil from the moon's surface that he acquired from NASA. He expects a similar deposition process on the lunar surface, which may accumulate material over a much longer timescale. 
 Dr Michael Hotchkis, who has a long association with Prof Wallner, is assisting with measurements of plutonium isotopes in the lunar samples, using the Vega accelerator, while measurements of Fe-60 are taking place at ANU.