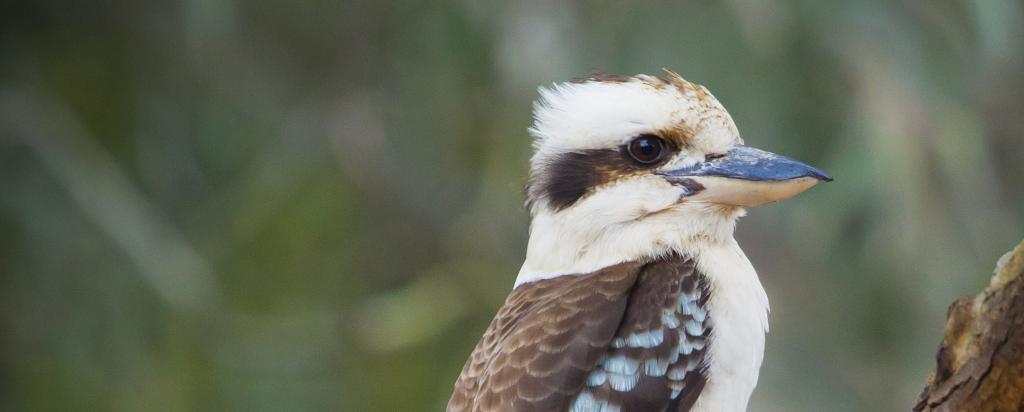 Environmental management
ANSTO is committed to minimising the environmental impact of its activities and to implementing strategies which have a positive effect on the environment. An ANSTO Executive Committee oversees this process.
ANSTO's Environmental Policy outlines the organisation's commitment towards the protection of the environment and the prevention of pollution.
Considerable resources are applied to effectively manage, monitor and report on ANSTO's operations, compliance obligations and potential environmental impacts.
ANSTO is proud to hold certification to the ISO 14001 standard for Environmental Management Systems. For further information on ANSTO's environmental performance, see below.
For a summary of the results of ANSTO's Environmental Monitoring Program, view pages 133-136 of ANSTO's Annual Report.
For a full report of FY2020 Energy Efficiency in Government Organisations report, view the report.
Environmental Performance in FY2020-2021
In accordance with section .516A of the Environment Protection and Biodiversity Conservation Act 1999 (EPBC Act), ANSTO is required to provide an annual report that outlines ANSTO's environmental performance over the period and how ANSTO accords with the principles of ecologically sustainable development. The data and discussion provided below complements the information provided within the appendices and index of ANSTO's FY2020-2021 Annual Report - Reporting under the Environment Protection and Biodiversity Conservation Act 1999 (EPBC Act).
Energy Use and Emissions

Resource Usage

Units

2019-2020

2020-2021

Change on previous year (%)

Electricity

GWh

64.6

63.4

-1.7

GWh/ FTE

0.048

0.047

-3.2

 

Installed renewable energy sources

kW

166

166

0.0

Natural gas consumption (Clayton and Camperdown only)

GJ

12096

11732

-3.1

 

GJ/FTE

70.4

67.1

-4.7

Passenger vehicle use - petrol and diesel

L/100km

8.79

9.15

4.1

 

L/FTE

12.5

8.8​​

-29.6

 

Emissions

Units

2019-2020

2020-2021

Change on previous year (%)

Scope-1 emissions (direct combustion/consumption of other energy sources other than electricity from the grid)

t CO2-e

3,570

2294

-35.7

 

t CO2-e /FTE

2.68

1.70

-36.8

Scope-2 emissions (electricity from grid)

t CO2-e

57,180

55,364

-3.2

 

t CO2-e /FTE

43.0

40.9

-4.7

Domestic air travel

km

1,394,135

 310,198

-77.7

 

km/FTE

1048

230

-78.1

 

t CO2-e

129

33.9

-73.8

 

t CO2-e/FTE

0.10

0.03

-74.2

 

International air travel

km

7,853,584

 204,229

-97.4

 

km/FTE

5904

151

-97.4

 

t CO2-e

 553

21.6

-96.1

 

t CO2-e/FTE

0.42

0.02

-96.2
Electricity Consumption

Likely due to the COVID-19 pandemic and reduced staff number of campus, FY20 and FY21 have seen a modest reduction in electricity consumption across our three campuses, . due to lower staff occupancy during the COVID-19 pandemic.

In addition to the consumption of electricity from the grid, in FY21 ANSTO produced and consumed approximately 260-megawatt hours of energy from renewable energy systems installed at its Lucas Heights and Clayton campuses.

ANSTO also produced and consumed approximately 160 megawatt-hours of electricity from site diesel generators in FY21.

ANSTO continues to install new infrastructure and replace old energy-inefficient systems that will improve our energy utilisation and reduce overall electricity consumption from the grid.
Scope-1 Emissions (fuel combustion and other gases)

Activities that contribute to our scope-1 emissions include petrol, diesel and LPG consumption by fleet vehicle use; natural gas consumption for heating purposes; diesel consumption by site stand-by diesel generators; combustion of acetylene and LPG; small fugitive emissions of refrigerant gases in HVAC systems and sulphur hexafluoride from our linear particle accelerators.

ANSTO appreciates the very high greenhouse warming potential of sulphur hexafluoride and has implemented the highest level of leak prevention and detection within its accelerator facilities to minimise any losses to the atmosphere.
Fleet vehicles


Staff Flights

Travel restrictions have significantly reduced ANSTO's contribution to CO2 emissions from staff flights, domestically and internationally.

Even before the COVID-19 pandemic placed a significant hold on staff flights since the start of 2020, ANSTO was already taking steps to reduce the requirement for staff to travel, particularly between its Lucas Heights and Clayton campuses, through the widespread use of video-conferencing facilities.
Water use and discharges

| | Units | 2019-2020 | 2020-2021 | Change on previous year (%) |
| --- | --- | --- | --- | --- |
| Town water consumption | m3 | 309,601 | 271351 | -12.4 |
| Wastewater Discharged to Sewer | m3 | 87,697 | 88,785 | 1.2 |
|   | m3/FTE | 65.9 | 65.6 | -0.4 |
The primary use of water for ANSTO is due to provide water for the OPAL cooling circuit. This water needs to be of sufficiently high quality to ensure corrosion and scaling of the secondary cooling system is prevented.

Town water is also essential for other purposes across the campuses including use in chiller/and air conditioning units, laboratories and general staff uses.

ANSTO has installed rainwater tanks with a capacity of about 275,000 L. These are primarily used to irrigate gardens and the sports field and for some areas that use rainwater for operational activities.

ANSTO is investigating options to capture and better utilise rainwater through future developments at its campuses.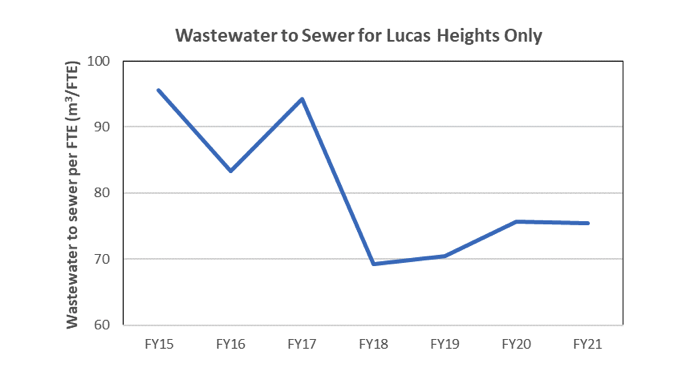 ANSTO has implemented three projects to identify and improve the efficiency in the sewer and stormwater systems. These projects will ensure our wastewater is treated and discharged to continue to meet our trade waste discharge requirements. 
Waste Production and Consumables
| Landfill and Recycled Waste (2) | Units | 2019-2020 | 2020-2021 | Change on previous year (%) |
| --- | --- | --- | --- | --- |
| Waste sent to landfill | t | 274 | 295 | 7.4 |
|   | t/FTE | 0.24 | 0.25 | 5.7 |
| Recycled cardboard + paper | t | 122 | 135 | 10.5 |
|   | t/FTE | 0.11 | 0.11 | 8.7 |
| Recycled co-mingled containers | t | 14.3 | 16.4 | 15.2 |
|   | t/FTE | 0.01 | 0.01 | 13.4 |
| Other reuse/recycled streams (3) | t | 10.9 | 26.9 | 43.2 |
|   | t/FTE | 0.01 | 0.02 | 40.7 |
| Landfill diversion rate | % | 36.1 | 37.6 | 1.5 |

ANSTO continues to look at new ways to reduce waste and what waste it does produce, divert it away from ending up in landfill through utilising re-use and recycling routes. Among these includes utilising:
Paper and cardboard recycling

Co-mingled plastics and glass recycling

Metal recycling – further broken down into ferrous, non-ferrous and specialties

Battery recycling

E-waste

Garden green waste

On-site composting

Fluorescent tubes

Chemical waste

While ANSTO has a significant workforce, the lower occupancy rate during COVID-19 lockdowns did not reflect an overall waste reduction. This suggests the majority of waste produced by our activities is driven by operational waste, not general staff refuse. This gives us a key insight into how we can better target waste recycling and minimisation projects into the future.

ANSTO actively works with its suppliers and to reduce the packaging waste and secure end-of-life re-use or recycling options.

For ANSTO's commercial health products, we utilise reusable or recyclable packaging and encourage our customers to use options to return packaging whenever practicable.
View consumbles

| Consumables | Units | 2019-2020 | 2020-2021 | Change on previous year (%) |
| --- | --- | --- | --- | --- |
| Recycled paper use | average %recycled paper consumed | 33.7 | 40.2 | 6.5 |
|   | kg non-recycled paper consumed/FTE | 6.18 | 3.44 | -44.3 |
| | % | 30.6 | 28.3 | -2.3 |

ANSTO has made significant improvements to the reduction in overall paper consumed and the proportion of that paper that is from recycled paper sources. This has been achieved through a number of digitisation delivery projects,  the introduction of PaperCutTM to track where and how much paper we are printing, and driving initiatives throughout the business to procure paper with minimum recycled content rates.

Through our Whole of Australian Government general office consumables provider, we encourage staff to purchase items from the available eco-range.
Environmental monitoring and reporting

ANSTO has an extensive program for monitoring the environment and tracking any changes or trends relating to its operations. 

A team of environmental scientists collect and analyse many types of environmental samples from ANSTO's Lucas Heights campus and the local area. Sensitive techniques are used to determine the type and quantity of radioactivity present. Naturally-occurring radioactive minerals found in rocks, soil and dust are present almost all samples. The analytical laboratories are certified to the ISO9001 standard for Quality Management Systems, and many of the monitoring results are independently verified.  

The results show that ANSTO's activities make only a very small addition (less than 0.2 per cent) to the natural background radiation dose  which all Australians receive each year from the environment;  and are used to ensure that ANSTO meets standards required by federal and state government agencies.  

Regulatory requirements

The Australian Radiation Protection and Nuclear Safety Agency regulates ANSTO's activities to ensure they do not impact adversely on the environment or wildlife and that dose to the public from airborne emissions is controlled.  

Wastewater which is treated, tested and discharged to the sewer is controlled through an agreement with Sydney Water Corporation. 

ANSTO maintains 3 networked weather stations which provide accurate local climate information to support research, airborne dose assessments, and plume dispersion modelling as part of its emergency preparedness and response arrangements. 

Environmental protection principles are observed in relation to the management and administration of ANSTO sites. 

Collecting and analysing samples 

Water and sediment samples are collected regularly from stormwater drains and local creeks. 

Groundwater is collected from a network of shallow and deep wells around ANSTO. Groundwaters are also analysed for water quality components such as plant nutrients, metals, pH, conductivity and suspended solids.  

Fish, seaweed and barnacles are collected from the Potter Point ocean outfall and a reference site in the Royal National Park.  

Air is monitored continuously at six locations around ANSTO. Air ventilated from laboratories and facilities which handle radioactive materials are filtered to remove particles, continuously monitored and analysed for radioisotope content. This emission data, together with ANSTO's weather station data, is used to model the dose to local populations. 

Environmental gamma radiation is continuously measured by dosimeters around the Lucas Heights site and in the local area. Environmental radiation levels are also monitored at a station in Engadine; the data is published online every 15 minutes. 

ANSTO also has a key role in a major research project that monitors fine particle pollution along the NSW coast, and other locations internationally. 

For more detail on ANSTO's environmental monitoring and a summary of results, view the Annual report.
Contact us
Interested in checking local environmental conditions?
Please visit the ANSTO Lucas Heights Weather Station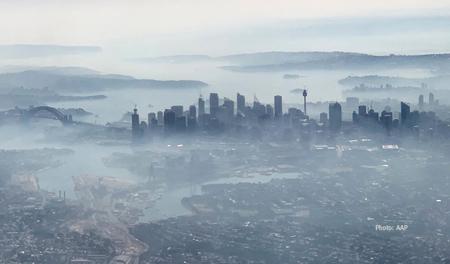 For current air quality conditions and forecasts, visit the NSW Planning, industry, and Environment website