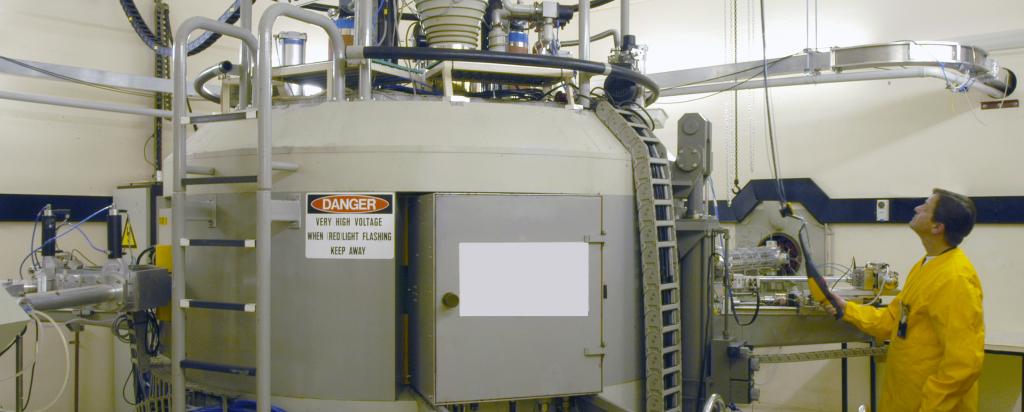 National Research Cyclotron Facility ceases operations to focus on emerging radioisotopes
ANSTO has ceased operations at the National Research Cyclotron Facility (NRCF) at Camperdown NSW and staff have been redeployed back to the Lucas Heights campus.  The facility formed a major part of the University of Sydney – ANSTO joint node of the NCRIS National Imaging Facility (NIF).
With the closure of the research cyclotron facility that began operations in 2012, ANSTO will no longer produce carbon- and fluorine-based radiotracers used in PET imaging for pre-clinical and first-in-human clinical research projects.
A number of developments led to the decision to close the facility.
There has been a fundamental shift in ANSTO's health strategy to focus on emerging opportunities in radioisotope technologies, labelling methods for therapeutic radiopharmaceuticals, and the growing field of theranostics, many of which are linked to the production of radioisotopes in the OPAL multipurpose reactor at Lucas Heights.
ANSTO will consolidate research and development, infrastructure investment, and radiochemistry expertise to support the health strategy at the Lucas Heights campus.
The new strategy includes the acquisition of capabilities at Lucas Heights for the development of alpha-emitting therapeutic radiopharmaceuticals, with co-investment by the National Imaging Facility (NIF).
 ANSTO's pre-clinical imaging capability has been centralised at the Lucas Heights campus and will remain an area of close collaboration with research partners, taking advantage of access to the new range of radioisotopes.
Current training commitments in the areas of radiochemistry and radiopharmaceutical R&D and production have been moved to the Lucas Heights campus. 
As the decision impacts both future and existing research projects and programs of work, particularly the supply of fluorine-18 and carbon-11 radiotracer products, ANSTO is exploring opportunities to transfer technology to other organisations and laboratories in Sydney and other capital cities.
 By focusing resources on the next generation of products, innovative radiopharmaceuticals and emerging medical modalities, ANSTO can deliver the most benefit to the health of Australians, the research community and the nuclear medicine industry.